Digital Marketing
STRATEGIES AND SECRETS TO MAKING KEYWORD RESEARCH FOR SEO OPTIMIZATION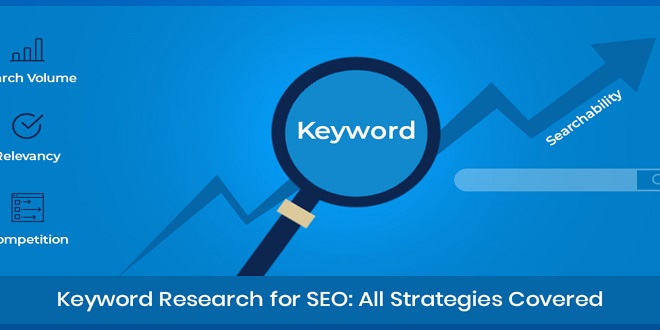 SEO optimization is a powerful and essential part of any online business with a website. Keyword research is the most important aspect of this process. This article will provide more information about keyword research.
A person searches the Internet for information using keywords or keyphrases. Proper keyword research is essential when planning SEO activities to improve your website's ranking in search engine results.
What's keyword research
KR refers to the process of identifying keywords (KW) or keyphrases that people search online. These words are important to SEO optimizers and website runners to be able to insert into their websites to increase organic SEO traffic.
Once the task has been completed, you'll know:
What do people search?
How they do it
It is amazing how often they do it.
As your website visits increase, so will the number of clients that you receive through conversion.
Keyword research: The reasoning behind it
It is important to know which keywords and phrases you should use on your web pages. This is because you can increase your website's visitors for no cost. The ultimate goal is to increase profits via online sales, brand awareness and authority of your website through visits.
To do KR, you shall:
Understand your customers (what might they search for)
Do the brainstorming based on your industry knowledge and potential keywords people might use to find you, a product you produce, or something similar.
Learn about your competitors. What keywords are they using on their websites? ).
Once you have done the brainstorming, you can start to write down any KW clients might use. Now it's time to turn your attention to professional tools that will give you a deep understanding of what people are looking for. These are some great tools to use:
Google Keyword Planner (a.k.a. Google Ads
Ahrefs
Semrush
Keep in mind that certain functions and tools in these tools can be paid. Let's look at Google Ads as an example. Google Ads is the most popular search engine in the world. It can provide you with statistics and live search results.
After creating an account and creating an ad campaign click Keyword Planner — Discover New Keywords and type in the KWs you wish to discover. The table of results will appear shortly. Here, you can sort the keywords by relevancy, competition, average monthly display, ad impressions share and cost of a bid. Below is a list of alternative words that could also be used (modifications to the original KW). This tool, as well as Ahrefs', could also show additional data, such as keyword difficulty, regional relevance and intent, and modifiers.
To make a list, you will need to select the KW carefully and record them in your spreadsheet. Your website's future use will depend on their relevancy, difficulty, modifiers and the KW density in your text. It also depends on the number of pages you have on your site. Here are some examples, e.g., for a company selling men's shirts:
A short KW: "blue shirt"
A modified KW: "best blue shirt cheap"
Regional: "Buy a Blue shirt for a Man in Denver"
Difficult: "Online store to buy a cheap man's blue shirt in Denver, US"
Intent-based: Blue shirt Denver (navigational), What tie is best for blue office shirt (informational), and "Buy the Best Shirt in Denver Cheaper Than $50" (commercial).
Modifiers and variants are suffixes, prefixes or gender-based options. They can also include additional words, word changes, or changing the position of words in a sentence. All the words people use to search for information. You know that someone might need a blue shirt to wear to work, while another person may want to find out which shirts are the best for a boat party or what kind of shirt is cool enough. One simple KW "blue shirt", eventually becomes many variations, with many tails', difficulty levels, and intents. These are all analyzed using SEO tools to show how often people use them. Although one key can lead to many options, the true relevance could reduce the usage to between 20 and 150 KW. Based on your website's type and commercial focus, you'll choose the ones that can be embedded into your pages.
You should also check out the KW used by your competition. Ahrefs is an example of this. Simply enter the website name in the search field, and then click on the Organic Keywords tab to see the KW they used (and many other data). You can view which pages of your competitors are attracting more organic traffic using a keyword in the Top Pages tab. This data will be used to adapt to the needs of your website.
Conclusion
The core of professional SEO services is to do the KR. This is essential for the promotion a website. Use the information in this article to do your own research and begin an effective SEO project.